Reusable Hot Cold Heat Gel Non Toxic Pack Sports Muscle Back Pain Relief Care Tools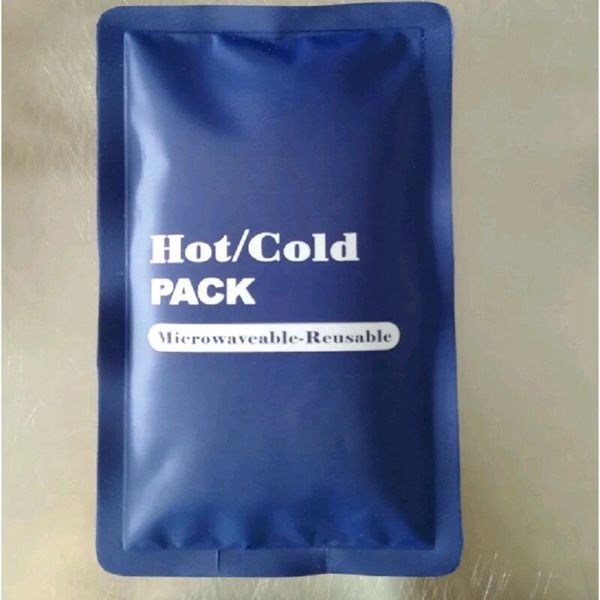 Reusable Hot Cold Heat Gel Non Toxic Pack Sports Muscle Back Pain Relief Care Tools
Hot & Cold Bag or pack can be used as a fast remedy for pain. For new injury, use the bag filled with ice. The cold pack will decrease the flow of blood to the injured part of the body. In this way it decrease swelling. 
After the swelling is over, use it with warm water as a hot pack. Heat will bring blood to the area and promote faster healing. It is also an effective way for immediate pain relief. 
Directions
"Hot Therapy (Hot Water Method): Place the pack in hot water with temperature not higher than 80 degree for 10 minutes. Wrap the pack in a dry towel before applying. 
Hot Therapy (Microwave Method): Lay the pack flat in a microwave oven with power below 600W. Heat the pack for 30 seconds at a low power setting. Heating times will vary with the power of the microwave. If more heat is required, heat the pack for another 10 seconds until the desired temperature is reached. Cool the pack for at least 1 minute before applying.
Cold Therapy: Store in a freezer for use anytime or place the pack in the freezer for at least 1 hour before each use. Wrap the pack in a dry towel before applying."
To avoid frostbite or burn, always wrap the pack in a dry towel before applying. Do not apply it directly to the skin.
Do not use concurrently with other heating pads or external analgestic products during heat therapy.
Do not overheat in the microwave as it can damage the product. If overheated, check the pack to see if there is any sign of damage, do not use it and discard immediately in case of any damage.
Consult a doctor before treating any serious injury or post-surgical trauma.
If contents are exposed to the skin or eyes. wash with water immediately and consult a doctor.
For external use only.
If irritation occurs during or after use, stop usage and consult a doctor immediately.
Keep out of reach of children.
Use under adult supervision when applying this product on babies, kids, elderly or on those incapable of using the products by themselves.
People with diabetes or poor blood circulation should not use this product unless under direct supervision of a physician.
It is recommended to use for 20 minutes for each use.
Leave at least 1 hour in between hot and cold therapy applications.
Do not swallow. If swallowed, please consult a doctor immediately.
Do not use if the product is damaged.
Ingredients
"Content: Water, Glycerine, Polyacrylic Acid, Denatonium Benzoate
Outer material: Nylon, PVC film
Size: 13cm x 23cm